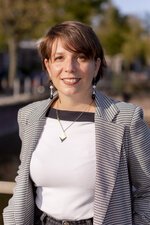 Francesca Vanelli
Academic Assistant in Urban Land Governance for Sustainable Development
Francesca Vanelli is an Academic Assistant in the Urban Land Governance for Sustainable Development thematic area at IHS. She supports the acquisition, project management, education and training development activities of the institute in urban land governance with a special focus on land, water and natural resources.
Francesca is passionate about social justice, and she is interested in the overlap between land governance, adaptation and planning. She has experience in quantitative and qualitative research methods and transitional and post-socialist countries field-based research.
She graduated cum laude from the MSc. in Urban Management and Development at IHS in 2019, specialising in Urban Land Governance.  She obtained her MSc in Architecture at the University of Ferrara in 2016, writing her thesis on the spatial and economic regeneration of the waterfront of Havana, Cuba. She is a UN SDSN Local Pathway 2020 Fellow, while previously, she worked in the humanitarian field on a post-conflict engineering proposal across housing, land and property issues.
Fransen, J., Ochoa Peralta, D., Vanelli, F., Edelenbos, J. and Calzada Olvera, B. (2022). The emergence of urban community resilience initiatives during the COVID-19 pandemic : an international exploratory study. European Journal of Development Research, 34, 432-454. (First online 21 January 2021). https://doi.org/10.1057/s41287-020-00348-y.
Vanelli, F., Dyca, B., and Rabé, P. (2020). Transboundary water management in the Western Balkans : challenges of the land-water nexus in the Drin river basin. In Co-Plan (Ed.),A nnual review of territorial governance in the Western Balkans, II (pp. 118-139). Tirana: Co-Plan.