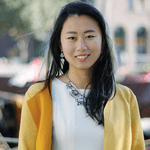 Indriany Lionggo
Academic Assistant in Urban Economic Development and Resilience
Indriany Lionggo is an Urban Economics and Development Resilience specialist with a background in Architecture studies. She has comprehensive theoretical knowledge in urban design, economic growth, innovation, and place-based action planning with a demonstrated working experience both in the Higher Education industry and in Architecture firms. Her expertise includes theories on the fundamental urban and regional economic processes that explain economic competitiveness, resilience, and quality of life for cities, to develop the ability to analyse and govern these processes. She has been trained in quantitative research skills and understands the fundamental concepts of statistical regression analysis.
Indriany works as an academic assistant in Urban Economic Development and Resilience. She supports the organisation and management of the related Master's track and short courses. She has coordinated a one-week Action Planning as part of the master programme and has developed resources for one of the master's thematic areas at IHS. She is now involved in project management and acquisition related to proposal writing, content contribution, project execution, communication and coordination of project partners, and administrative support in several tailored-made-trainings (TMTs) funded by Nuffic.
In addition to her work at IHS, she works at C40 Cities Climate Change Leadership Group as a workshop coordinator for the Climate Adaptation Academy based in Rotterdam. The academy consists of an Adaptation Masterclass that provides policymakers training on the basics of adaptation planning and a City Leadership Symposium, which focuses on the capacity building of decision-makers on adaptation planning. She is involved in developing the academy planning, from giving sessions, managing event logistics in coordination with the cities, and liaising with the financial and legal team to ensure all expenses align with C40 protocol and requirements. Her expertise includes climate change environment in tackling climate change by identifying and supporting innovative actions to mitigate and adapt to climate change, reduce greenhouse gas emissions and create resilient, sustainable and low carbon cities.
She is interested in urban planning in a city and its characteristics to make a city thrive from the perspective of social, environmental, and economics. Similarly, she is fascinated to combine her urban planning knowledge and the relationship between cities and climate change in tackling climate change and driving urban action that reduces greenhouse gas emissions and climate risks while increasing the health, well-being and economic opportunities of all urban citizens.
Oort, F. van, Nagler, P. and Lionggo, I. (2021). Structural change, labour markets and urban economic policy in emerging economies. In J. Fransen, M. P. van Dijk and J. Edelenbos (Eds.), Urban planning, management and governance in emerging economies : paradigm shifts (pp. 57-79). Chelmsford; Northampton, MA: Edward Elgar.