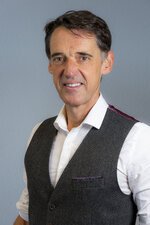 Mr. Kees van Rooijen was born in 1964. After his Bachelor studies in Business Economics at Erasmus University Rotterdam, Mr. van Rooijen has followed a Master class in Management and Strategy at the Department of Health Policy and Management, Erasmus School of Economics.
Mr Kees van Rooijen worked as Director of Economic Affairs and member of the Executive Board of the Gemini Hospital in Den Helder for around ten years. From 1 May 2002, he has been a member of the Executive Board of Erasmus University Rotterdam. In the following eight years, he has fulfilled several local management functions for the board in social, cultural aspects and various management functions in the healthcare field.  
As of 1 June 2010, he was appointed Director of Institute for Housing and Urban Development Studies (IHS), the International Institute of Urban Management of the School of Economics (ESE) and Erasmus School of Social and Behavioural Sciences (ESSB) of the Erasmus University Rotterdam, the Netherlands.