Is this the programme you're looking for?
Do you wonder what role cities play in discovering answers to major social economic and environmental issues such as sustainability, poverty, inequality, housing and growth in a just way? Then this urban studies master track is the right choice for you. 
Key Facts & Figures
Type

Master

Degree

MSc

Mode of study

Full-time

Instruction language

English

Duration

1 year

Study points (EC)

60

Location

Application Deadline (EEA)

17 June
The study programme in a nutshell
Today, cities are dynamic and fast-growing. They pose challenging governance questions as they are at the heart of cultural, social and political transitions and innovations towards more sustainable and inclusive societies. Professionals who possess the right knowledge and skills to tackle complex urban governance and development issues are therefore urgently needed to develop sustainable and inclusive governance policies. This unique master in Urban Governance of Inclusive Sustainable Cities is a collaboration between the Department of Public Administration and the Institute of Housing and Urban Development Studies (IHS), combining Public Administration expertise on urban policy, politics and governance with Urban Planning and Management expertise. 
Watch the study programme video
What you will learn
The programme offers a varied set of courses (obligatory and elective), skills training, working group sessions, and guest lectures by internationally well-known scholars as well as practitioners from the field. Furthermore, you conduct your own research project (thesis) in which you apply theories and social scientific research methods to examine urban governance issues.
Is this the right programme for you?
Get your MSc from a top 100 university Benefit from the knowledge of two renowned partners; The Department of Public Administration was #4 in the 2022 Shanghai Academic Ranking of World Universities on Public Administration. 
Learn from both leading scholars in the field and active urban policy advisers. 
Join in our interactive urban governance labs where you will be trained to use your theoretical knowledge to solve real-life examples of urban governance issues.
Prepare for your career and network during your project work and field visits to local stakeholders such as the Port of Rotterdam, Housing Associations or the Municipality of Rotterdam.
Gain knowledge on current trends, topics, innovations and tools from various disciplines in the field of urban governance (such as the circular economy, place-making, co-production and self-organisation etc.)
Apply and develop your knowledge globally by learning from international case studies, staff and classmates.
Exchange opportunities at our partner institutions – leading universities across Europe.
Want to know more? Meet us here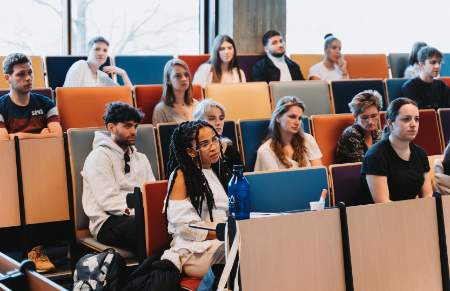 Career opportunities after graduation
Graduates are able to both analyse complex public issues and develop strategies for the management and design of inclusive and sustainable urban policy and governance processes. Alumni of our programme become project managers working on urban development, policymakers or advisors working at the local, regional, national and international level for both public and private organisations on themes such as sustainability, regeneration, mobility, city planning, infrastructure and co-creation.
What do our students think?