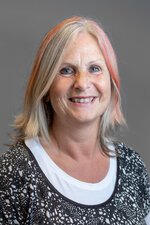 Cocky Adams
Course administrator
Cocky Adams (Course Administrator) is a team member of the Educational Management Office. She is in charge of all administrative tasks before the commencement of courses. These preparations include the communication with participants and the Netherlands embassies and contacts with sponsors, the Ministry of Justice and Nuffic. Also, (long-term) visa arrangements and the organisation of residence permits for the students are under her responsibility. Cocky attends frequent meetings on the afore-mentioned subjects organised by Nuffic and the Ministry.
In addition, Cocky provides support to course managers during course implementation by managing the schedules, communicating with participants, making the needed arrangements for field excursions and reading materials, and diplomas (including the legalisation) and transcripts at the end of the course. She also responds to alumni requests and manages incoming applications for courses. She assists the Educational Management Office head whenever participants ask questions about (return) visas, insurance, and residence permits.
Cocky is the IHS coordinator for Blackboard, the information system on education for students and staff. Her assistance includes updating Blackboard at IHS, assisting staff and students on how to use Blackboard, close contact with the Blackboard system managers at the Erasmus University, and attending meetings.